Our Doctor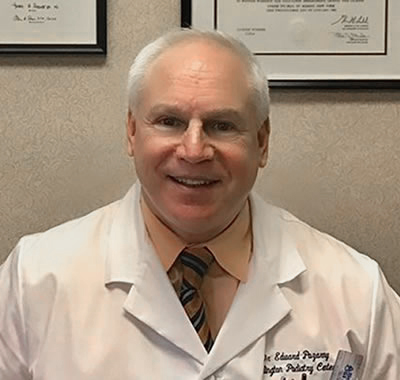 Edward S. Pozarny, DPM
Edward S. Pozarny, DPM
Dr. Pozarny, a native of Buffalo, New York, received his undergraduate degree with a Bachelor of Science in Physical Therapy from Boston University's Sargent College of Allied Health Professions, Boston, MA. He attended medical school at the California College of Podiatric Medicine in San Francisco, CA. His senior year of medical school was spent at the USC-LA County Hospital program, and the VA Wadsworth Hospital at UCLA. After graduating in 1982, he completed a 2-year surgical residency at the Monsignor Clement Kern Hospital in Warren, MI.
Dr. Pozarny became a Diplomate of the American Board of Foot and Ankle Surgery in 1990 and also a Fellow of the American College of Foot and Ankle Surgeons. Dr. Pozarny is certified in foot and ankle surgery as well as reconstructive rearfoot and ankle surgery.
Dr. Pozarny is currently on staff at the Virginia Hospital Center – Arlington, INOVA Fairfax Hospital, and the Fairfax Surgical Center. He is a licensed podiatrist in Virginia, Maryland, Washington, D.C., California, Massachusetts, and New York. His is also a licensed physical therapist in multiple states.
Dr. Pozarny is currently an Associate Professor at Georgetown University and an attending at the Northern Virginia Podiatric Residency Program based at INOVA Fairfax Hospital where he teaches students and residents. Dr. Pozarny is a member of the American Podiatric Medical Association Mentoring network program and enjoys teaching students.
Dr. Pozarny is a volunteer/speaker for the National Youth Leadership Forum on medicine. He was a speaker at the National Health Explorers Exposition at NIH in Bethesda, MD. Dr. Pozarny is a frequent lecturer at local hospitals, church groups, senior centers, community centers, schools, college recruitment programs and seminars.
Dr. Pozarny is a member of the American Podiatric Medical Association, the Virginia Podiatric Medical Association, the American Diabetes Associations, and the Arlington Host Lions Club (past President).
Dr. Pozarny is a proud member of the Arlington Free Clinic, servicing the local community since it's inception.
Dr. Pozarny has many hobbies including: traveling, camping, skiing, hiking, and biking. He also studies jazz guitar and piano.
Staff